The officers and board members of the Brooklyn Aquarium Society decided that for everyone's safety and to minimize possibility of contracting the Corona Virus (COVID-19), our April 10th event titled "Successful Strategies for Reef Keeping by Bob Stark is canceled. Bob owns and operates ESV Aquarium Products and has been long standing supporter of the Brooklyn Aquarium Society (Thank you Bob).  His company makes outstanding products for saltwater and reef aquariums. To show your support in these hard times, please visit his website and review his offerings.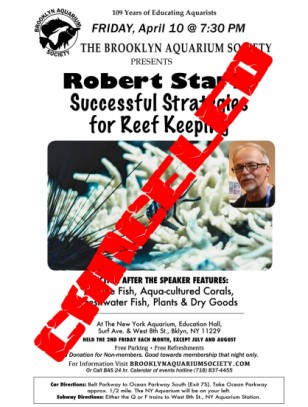 We apologize for any inconvenience caused and hope you stay healthy throughout the rest of the flu season.
Stay Home – Flatten The Curve!
Hoping to see you all soon.