Breeding The Banded Acara (Bujurquina Vittata) by Joe Graffagnino
The Bujurquina vittata is an interesting biparental mouth brooding South American (basically from Brazil, Argentina and Paraguay) cichlid.  This little beauty, as it doesn't grow larger than 4.5 inches, is unique because both parents take the fry in their mouth when they move from foraging locations. If predators are about, the fry zoom into the parents' mouths and the pair makes a quick escape. The parents were fed a diet of African Attack pellets, various types of flakes and live black worms. There were originally 3 females and a male when I got them from friends at the North Jersey Aquarium Society, hence the need to join several fish clubs. It took several months, but eventually I found the male and one of the females prodding the other two females away. Not wanting to have the single females hurt, I moved them to another aquarium. The new pair quickly set up house in the center of the tank.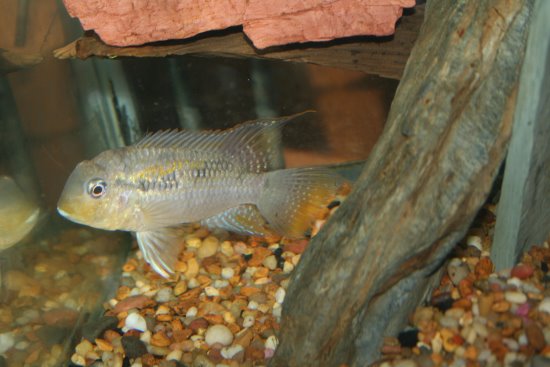 They are excellent parents, although they are very nervous, zooming across the aquarium at full speed. Fearing for their safety, I taped newspaper on the front glass. To observe them I had to carefully and quietly move to the side panes. I had to limit water changes for fear of upsetting them with a possibility of them eating their fry. They managed to lay their eggs in the inside of a half of a coconut shell, along the top ridge. However, after a few weeks of semi isolation, I was rewarded when I witnessed a cloud of babies rising off the bottom, in the center of their parents. For the first few days of free swimming, the babies rarely left their parents, but as days wore on, they started venturing further away. The parents were trying to corral them into one spot, but the fry didn't want to hear it. After the babies were swimming for two weeks, I removed the parents to a separate tank. I kept the parents' tank unlit so as not to spook them. They were able to see from the lights of other aquariums nearby. The babies didn't seem to mind the absence of their parents and continued to graze off the algae and bits of food around the tank. I started them on frozen baby brine shrimp and crushed flakes. Regular biweekly water changes of 15% declorinated tap water produced larger fry. The environment the fry lived in was 80 degrees Fahrenheit, neutral pH, soft water as are NYC standards. In a couple of weeks, they moved to frozen cyclopeeze and minced blood worms.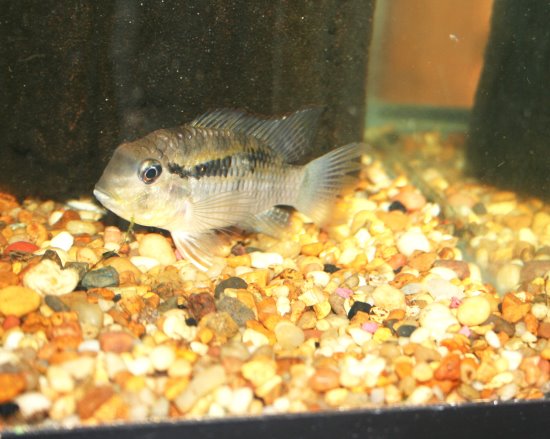 The males have blue lips, with yellow flush cheeks with a gold streak moving horizontal above their lateral line. The males also have a red trim along the top edge of their dorsal fin. Males have lyre tail strings that extend from their dorsal, anal and tail fins. They have turquoise blue lines in their pectoral finnage and are repeated with aquamarine dots in their anal and in the rear of their dorsal fin. The males develop a slight hump on their forehead. The females are slightly smaller and are blander color wise, but still maintain the aqua blue in their anal and at the end of their dorsal fin. They don't have the extended fins of the male and are a gray in color with slight yellow in their face and cheeks.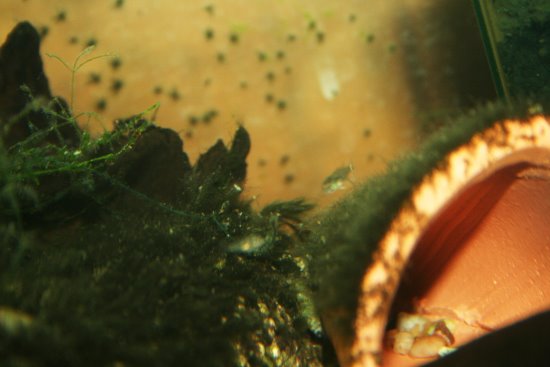 I highly recommend this interesting and pretty fish. Their temperament is mild, they don't bother tank mates and they eat anything in flake, pellet or frozen form. They do especially love live black worms. I feed them a few pellets or flake and then the live food because it will stay in their stomach longer. This will, in turn, give them greater amounts of protein which produces larger quantities and more fertile eggs. Set them up in a tank of their own, such as a 30 gallon (36"L x 12"w x 20" H) and let them pair off and enjoy their antics.