Whiptail Catfish By Joe Graffagnino
 There are several species of Whiptail catfish which are very difficult to distinguish apart. This catfish species comes from cool, fast moving streams in South America.  The species Latin name is Rineloricara. This type of catfish gets its common name from its slim, armored, flat, and stiff body that has color variations from gray to brown. They are a slow moving, peaceful fish that has a tail fin that extends to a delicate "whip-like" extension. Whiptail cats get about 6 inches in length. The only way I can sex them is the female's belly is larger than the male's, as is with most types of catfish.  When the female is pregnant, her stomach is huge; she will sit outside the PVC tube and wait for the male to allow her entrance. As she lays her eggs, he is directly behind her fertilizing them. When completed, the male then chases the female from the tube and he cares for the eggs.
I received my group of a dozen small fish from one of Brooklyn Aquarium Society's expert fish breeders – Lisa Quilty. Lisa bred the parents in a small PVC tube and brought the fry in for "Breeder Award Points" and she is one of our club's leading spawners of difficult fish. I brought them home and set the group up in a 10 gallon tank with riverbed gravel, a corner box filter that contained charcoal and ammonia chips and I placed a couple of wood pieces in the tank to make them comfortable. After a few months, I added some small and narrow clay and PVC tubes. The small fish grew quickly with weekly water changes and high protein flake food. To improve their diet, I gave them frozen foods such as blood worms, cyclopeeze and daphnia a couple of times a week. I would, on occasion, provide them with a piece of frozen zucchini that they would ignore until it started getting a fungus on it and then the next day the zucchini would be gone. I guess they will only eat it if it's soft.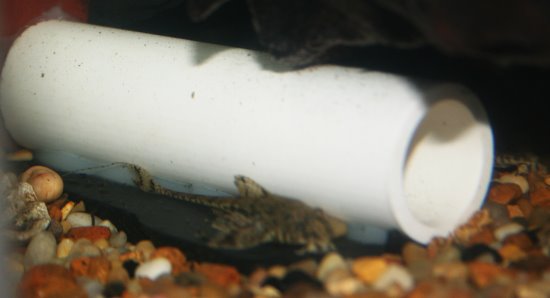 Early one evening, my friend and fellow fish breeder Vinny Babino came over and, as I was showing him the various fish I had in the aquariums, he looked into the whiptail catfish tank which I kept at the end of a long row of tanks that I rarely paid any attention to, and remarked that there appeared to be a lump inside the PVC tube. I looked and then with a flashlight discovered the male was sitting on a batch of green eggs. With this species, the female lays the eggs and the male cares for the eggs, actually gently scraping the eggs to help the fry escape  after about 7 days..
 An interesting note: Vinny had obtained the parents of the fry and had them in his home aquarium. When he went home that evening, his fish had also laid eggs in a PVC tube. Several times afterward, both of our groups laid eggs the same day.
I must have had my fish for approximately 2 years before they spawned.
When the fry became free swimming, I fed them crushed egg flakes, which help fry grow faster, and some frozen zucchini that they allow to soften before eating it. The fry grow quickly with frequent water changes and heavy aeration. The spawning tubes were 6 – 8 inches long and 1" wide, open on both ends. The GH was 2, pH was 6.3 and the temperature was 76 degrees Fahrenheit. After the first pair spawned a second time, 3 weeks after the first spawn, other pairs started breeding. I guess the pheromones in the water activated the others' spawn cycle. I found 36 babies from the first spawn; in some spawns the eggs were eaten and in others, when the babies were released, the adult whiptails ate them. The spawns became larger and after several months I counted 84 fry in a single spawn. The fry are small so if I didn't see them on the glass so I could siphon them up, the adults would go for them. I found that these fish need natural wood in the tank, which I believe helps them digest food.
Never use glass gravel for this species of fish.
I highly recommend this delicate in beauty, yet hardy in nature fish for your aquarium. They are a joy to behold and will not bother other fish or plants in your tank. After you have bred them, don't forget to bring the fry to your local fish club and share the fun with other hobbyists.